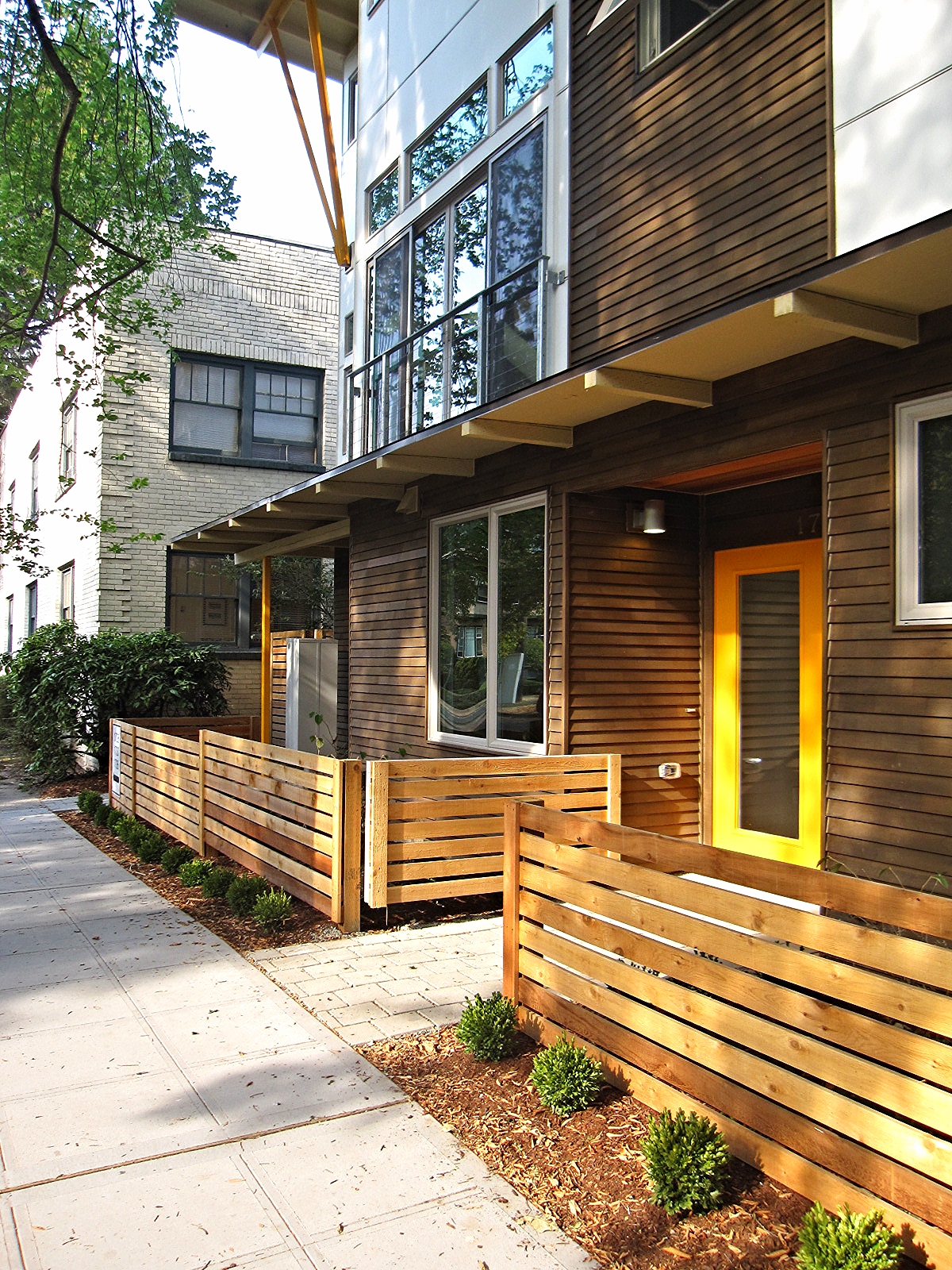 Howell Green is a seven unit development on top of Capitol Hill with an alley that provides access and parking, and with a central courtyard that provides open space and stormwater retention. The courtyard is set a half-level below the main floor, so that the main living areas and private decks feel connected to the common areas. The stairways are designed to have a split level entry so people can easily circulate from the private decks down to the commons without using exterior stairs that would eat up space and create a lot of visual clutter. The site enjoys good southern exposure, so the units are oriented to provide more units that can capture the light and solar gain. The solar shades, the roof overhangs, and the canopies have all been integrated together to form strong horizontal planes that create visual interest, protect the areas of natural finish, and create a bottom/middle/top composition that recalls some of the more traditional buildings in the area.
Heat recovery ventilation system provides a constant supply of fresh air while preserving energy efficiency.

High efficiency gas on demand hot water system provides domestic hot water and radiant heat.

Storm water management system integrates a rain garden into the project courtyard landscaping.

Rain screen siding system over a fluid applied air and weather barrier system provides commercial grade moisture and air sealing.

High efficiency double paned, Low-E, argon filled, windows and doors

Super-insulation incorporates a combination of closed cell spray foam, blown-in-blanket (BIB), and complete under slab insulation.

Sustainable and recycled finishes

Generous decks provide occupants more access natural air and light outside

Large well placed windows maximize access to natural light and views of the sky

Units are laid out to take advantage of the southern exposure for good day-lighting and passive solar gain.

Careful hand excavation along the street edge allowed the preservation of two specimen trees.

Rooftop decks and a common courtyard provide more than double the amount of open space found in a typical townhouse project.